Destiny or Death!
ETERNAL WARRIOR #1 Rages On!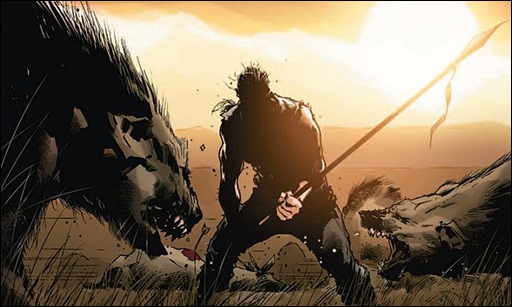 Here is a preview of Eternal Warrior #1, written by Greg Pak with art by Trevor Hairsine, on sale September 11th, 2013 from Valiant Comics.
Press Release
Valiant is proud to present an advance preview of Eternal Warrior #1 – Valiant's next ongoing series from New York Times best-selling writer Greg Pak (Batman/Superman) and superstar artist Trevor Hairsine (Ultimate Nightmare)! On September 11th, two all-star creators come together to forge a brand new legend of the Valiant Universe!
After centuries on the battlefield, Gilad Anni-Padda has abdicated his duties as the Earth's immortal Fist and Steel for a simple life of seclusion. Living quietly among the wilderness, the undying Eternal Warrior has sworn not to raise his sword again – until his own daughter, long thought dead, brings an ancient war raging back to his doorstep…and, with it, a deadly legacy far bigger than a single warrior.
Beware the Sword of the Wild when Valiant's immortal guardian ventures into a battle beyond myth, beyond legend, and beyond time on September 11th in Eternal Warrior #1!
Read morePreview: Eternal Warrior #1 by Greg Pak & Trevor Hairsine