Dark Horse July 2012 Releases!
These are the Dark Horse Comics solicitations for July 2012.
ALABASTER #4 (of 5)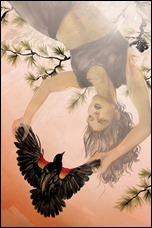 Caitlín R. Kiernan (W), Steve Lieber (A), Rachelle Rosenberg (C), and Greg Ruth (Cover)
On sale July 11
FC, 32 pages
$3.50
Miniseries
Award-winning author Caitlín R. Kiernan brings one of her most enduring and popular creations to comics!
In a scant few days, Maisie has gone from werewolf to ghost, and from Dancy's would-be murderer to her erstwhile ally. Now, finally, Dancy's enigmatic guide tells her story—and Dancy gets her first real glimpse into the evil infesting the town.