THE NEXT GENERATION OF CYBERFORCE REMAINS AFFORDABLE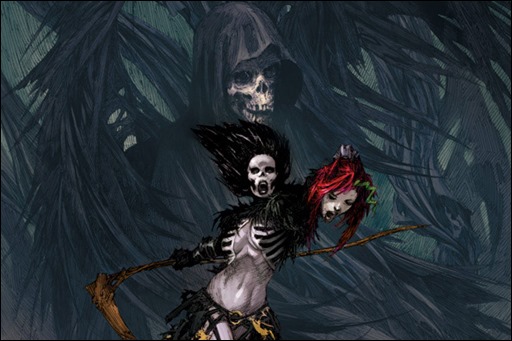 Comics Legend Marc Silvestri Builds on Crowd-Funded Support of Fans
Recently, Top Cow Productions were able to resurrect CYBERFORCE and bring the first five issues to market for free due to support from their Kickstarter campaign.
Fans demanded more issues, so Cyberforce #6 will hit the market on September 18th, 2013 with a price tag of only $2.99.
Press Release
Cybernetic freedom fighters defend civilization from evil corporations and their takeover of the world in CYBERFORCE. Written and created by Marc Silvestri (THE DARKNESS, Uncanny X-Men), with art by Marco Turini, colors by Andy Troy (Astonishing X-Men), and finishes by digital wizard Stjepan Sejic (RAVINE, THE DARKNESS: THE DEATH OF JACKIE ESTACADO), CYBERFORCE #6 marks a landmark issue for the series and the beginning of a new story arc. CYBERFORCE launched with a record-setting promotion that gave readers the first five issues for free, making issue 6 the first issue in the series to cost anything, offered at the affordable price of $2.99.
Thanks to the crowdfunding site Kickstarter, TOP COW PRODUCTIONS, INC., and their loyal and amazing fans were able to raise enough money to resurrect the CYBERFORCE franchise. As a result, the first five issues of CYBERFORCE were sent to retailers all across the world to give away for free. Nothing like this had been done in comic book history, and as a result, fans have clamored for more. Issue 6, due in September, brings an end to the free promotion, but Silvestri trusts that the first five issues and the strength of this new story are enough incentive for readers to keep going.
Read moreCYBERFORCE #6 From Top Cow Only $2.99 Due To Crowd-Funded Support