on
April 14, 2011
and modified on April 14, 2011.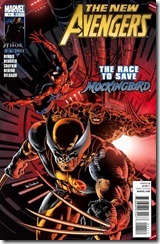 Writer: Brian Michael Bendis
Artist: Mike Deodato, Howard Chaykin
Colors: Rain Beredo, Edgar Delgado
Letters: Joe Caramagna
Editor: Lauren Sankovitch, Tom Brevoort
Cover: Mike Deodato, Rain Beredo
Publisher: Marvel Comics
Cover Date: June 2011
Cover Price: $3.99
After nearly being defeated by Superia in the last issue, Dr. Strange, Spider-Man, and The Thing manage to bring a critically injured Mockingbird to a local hospital where she barely clings on to life. Leaving her with the surgical team, the heroes meet up with the rest of the New Avengers where Spider-Man proposes that they may have been set up.
Victoria Hand – co-creator of H.A.M.M.E.R. and Norman Osborn's former right-hand lady – is currently the New Avengers' liaison and sent them on the mission that resulted in nearly killing Mockingbird. That doesn't sit well with some members of the team.
Meanwhile, while the story in the present plays itself out, we flash back to 1959 for the majority of the book, this time focusing on the first mission for Nick Fury's Black Ops Initiative aka The Avengers. The group is assembled in Helsingborg, Sweden in order to take down the Red Skull who is reforming The Reich. After shooting their way through a large amount of Nazis, including some help from Namora in a fantastic double page spread, the team manages to come close to the villain. But what they find is much more disturbing than they could have ever imagined.
Even though Mike Deodato does a good job with the present story, this issue is all Howard Chaykin. His stylized and dynamic style fits in perfectly with Bendis' script in the origin story. The double page spread with Namora is so over-the-top yet SO classic Chaykin it got a smile and laugh out of me. That should have been the cover of this book!
Speaking of covers… While the cover features Wolverine, The Thing, and Spider-Man making their way through a tunnel in a very determined fashion, not once does this take place in the story. I know it's nitpicking, but I would have rather seen a Howard Chaykin cover featuring the 1959 Avengers just standing around than a meaningless 'stock' cover. It's a nice Deodato cover nonetheless.
- The Comic Book Critic
Comic Book Critic Rating: 8.0