Review of Batman #13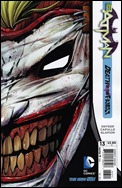 Writer: Scott Snyder
Pencils: Greg Capullo
Colorist: Jonathan Glapion
Cover Art: Greg Capullo
Publisher: DC Comics
Cover Date: Dec 2012
Cover Price: $3.99
Will the real Mr. J please stand up?
SPOILER ALERT: I might be slightly spoilerific here, so if you haven't read the book yet, consider yourself warned.
It's a little tough "reviewing" a book like Batman #13. With all the hype, everyone knows about it and is already discussing it. They've picked up the book and already formed their opinion of it. So… let's call this little write up of mine less of a "review" and more of a "discussion".