Silk Revealed in AMAZING SPIDER-MAN #4
– an Original Sin Tie-In!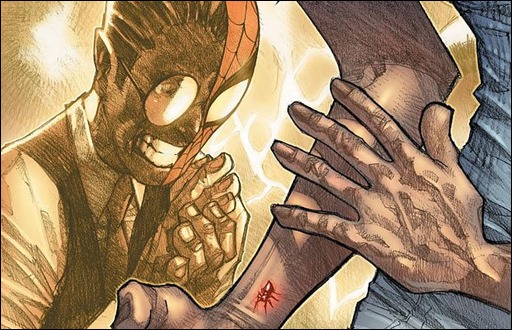 Here's a preview of Amazing Spider-Man #4, an Original Sin tie-in, by Dan Slott & Humberto Ramos – on sale July 23rd, 2014 from Marvel Comics.
Press Release
Hang on to your hats webheads, today Marvel is proud to present your first look at AMAZING SPIDER-MAN #4, the next blockbuster issue in the chart topping series and a tie-in to ORIGINAL SIN! A bite from a radioactive spider forever set young Peter Parker on his path to become the greatest superhero in history. But that's not the whole story. Coming in July, New York Times Bestselling creators Dan Slott and Humberto Ramos uncover the truth behind the day the spider gave Peter his miraculous powers.