Marvel's Mightiest Women Assemble! Your New Look at
A-FORCE #1!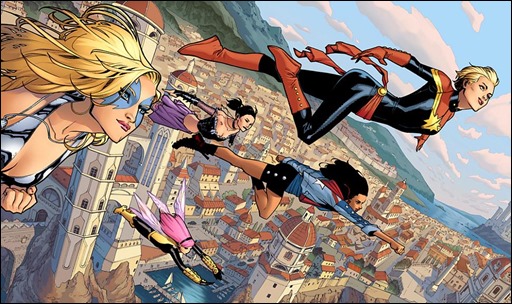 A New Team of Avengers Assembles During SECRET WARS
Here's a short, unlettered preview of A-Force #1, a Secret Wars series by writers G. Willow Wilson & Marguerite Bennett and artist Jorge Molina, on sale May 20th, 2015 from Marvel Comics.
Press Release
An all-new era begins this May as Marvel's Mightiest Mavens assemble for an explosive new series launching during Secret Wars! Today, Marvel is pleased to present your new look inside the blockbuster A-FORCE #1 – from the creative team of G. Willow Wilson (Ms. Marvel), Marguerite Bennett (Angela: Asgard's Assassin, James Patterson's Max Ride: First Flight) and Jorge Molina (X-Men)!