BUCKY BARNES RETURNS IN WINTER SOLDIER: THE BITTER MARCH #1!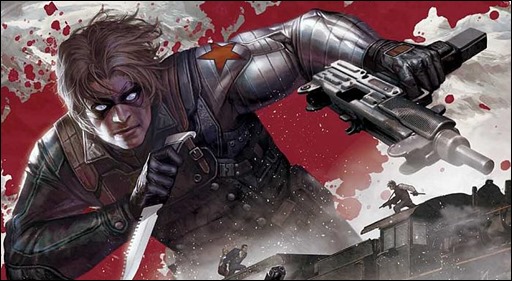 Bucky Barnes returns in Winter Soldier: The Bitter March #1 by writer Rick Remender and artist Roland Boschi debuting in February 2014.
Press Release
This February, because YOU demanded it – Bucky Barnes makes his return to the Marvel Universe for an all-new tale for All-New Marvel NOW! in Winter Soldier: The Bitter March #1 – from superstar writer Rick Remender and red hot artist Roland Boschi!
A tortured and broken soul, Bucky Barnes spent most of his life in service to the enemy. Programmed to be ruthless and efficient killing machine, The Winter Soldier conducted countless assassinations and wetwork missions for the Soviet Union.
Set during the Cold War, Winter Soldier: The Bitter March follows Bucky on one of his most dangerous missions yet – one that pits him directly against S.H.I.E.L.D., HYDRA, and more! With Nick Fury missing and presumed dead, S.H.I.E.L.D. sends its top agent Ran Shen to retrieve two Nazi scientists who hold the key to winning the Cold War! But the Americans aren't the only ones who want their secrets. The Soviets have dispatched their own deadly operative – The Winter Soldier!
Read moreWinter Soldier: The Bitter March #1 by Remender and Boschi Coming in February