Vertigo July 2013 Releases!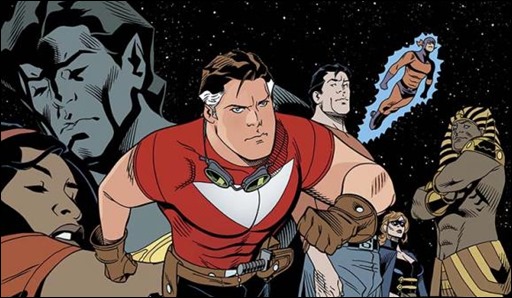 Here are the Vertigo solicitations for July 2013 courtesy of DC Comics.

COLLIDER #1
Written by SIMON OLIVER
Art by ROBBI RODRIGUEZ
Cover by NATHAN FOX
1:25 B&W Variant cover by NATHAN FOX
On sale JULY 10 • 32 pg, FC, $2.99 US • MATURE READERS
It started small: temporary gravity failures, time reversal loops, entropy reversals. With much fanfare a new government agency was formed with a mandate "to prevent and protect." Its official title: The Federal Bureau of Physics. Humans, if nothing else, adapt to the changing parameters of their existence. What was extraordinary soon became ordinary, a part of people's daily lives. They move on and do what people have always done: survive. But even that new status quo is now under threat. Things are getting worse, and it falls to Special Agent Adam Hardy and his FBP team to figure out what's going on, before it's too late…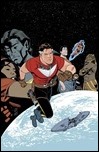 TOM STRONG AND THE PLANET OF PERIL #1
Written by PETER HOGAN
Art and cover by CHRIS SPROUSE and KARL STORY
1:25 B&W Variant cover by CHRIS SPROUSE and KARL STORY
On sale JULY 31 • 32 pg, FC, 1 of 6, $2.99 US • RATED T
At last, it's the return of Tom Strong—too bad he's powerless! The lives of his daughter Tesla and her unborn child both hang in the balance, and there's nothing Tom can do to save them…until he remembers the one thing that just might. To find it, he and Val Var Garm must journey to the far side of the galaxy, and the mysterious world known as…TERRA OBSCURA!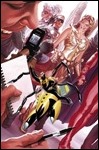 ASTRO CITY #2
Written by KURT BUSIEK
Art by BRENT ANDERSON
Cover by ALEX ROSS
On sale JULY 10 • 40 pg, FC, $3.99 US • RATED T
When the Honor Guard charges into battle, they're not alone. They're backed by a crack support staff, from researchers to threat assessment teams to hotline switchboard clerks. And when one young woman gets the job offer of a lifetime, it opens the way to a world of wonder, of possibilities—and possibly, the greatest mistake of her life. The return of the acclaimed series continues, with a closeup look at the humans behind the super humans.

THE UNWRITTEN: TOMMY TAYLOR AND THE SHIP THAT SANK TWICE HC
Written by MIKE CAREY
Art by PETER GROSS, KURT HUGGINS and ZELDA DEVON
Cover by YUKO SHIMIZU
On sale SEPTEMBER 18 • 160 pg, FC, $22.99 US • MATURE READERS
This exciting, original graphic novel explores the world of the Tommy Taylor novels in a visceral and direct way and is a great entry point for new readers.
Twenty-five years ago Tom's father, Wilson Taylor, devised his subversive literary masterpiece. Now the blueprint of how a father gave his son vast power in order to accomplish a greater scheme is revealed. Partly told through Wilson's own journal entries, juxtaposed with Tommy's swashbuckling deep sea adventures with his trusty companions Peter and Sue, the story is at once a prequel and a parallel story to the ongoing series.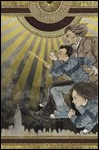 THE UNWRITTEN #51
Written by MIKE CAREY
Art by PETER GROSS
Cover by YUKO SHIMIZU
On sale JULY 24 • 32 pg, FC, $2.99 US • MATURE READERS
In "The Unwritten Fables" part 2 of 5, Tom Taylor steps into the role of warrior and protector in a war between storybook characters. His first mission: save the Big Bad Wolf. But a job like that might need TWO Tom Taylors…

DJANGO UNCHAINED #6
Based on the screenplay by
QUENTIN TARANTINO
Adapted by REGINALD HUDLIN
Art by R.M. GUERA and JASON LATOUR
Cover by ALEX ROSS
1:25 Variant cover by R.M. GUERA
On sale JULY 31 • 48 pg, FC, 6 of 6, $4.99 US • MATURE READERS
The comics adaptation of the Oscar® winning film by Quentin Tarantino comes to its violent conclusion. What chance does Django have to rescue Broomhilda now? To take on Candyland on his own, it's going to take all his wits and the skills Django learned from Dr. Schultz!

FABLES #131
Written by BILL WILLINGHAM
Art by MARK BUCKINGHAM and STEVE LEIALOHA
Cover by JOAO RUAS
On sale JULY 17 • 32 pg, FC, $2.99 US • MATURE READERS
The brand-new storyline "Camelot" begins as Rose Red finally and formally takes on the mantle of Paladin of Hope to heroically rally the Fables in the tragic aftermath of "Snow White." A new dark age calls for a new Round Table, with modern knights willing to take on a sacred quest to reassemble the shattered pieces of Fabletown.

FAIREST #17
Written by SEAN WILLIAMS
Art by STEPHEN SADOWSKI and PHIL JIMENEZ
Cover by ADAM HUGHES
On sale JULY 3 • 32 pg, FC, $2.99 US • MATURE READERS
In Part 3 of "The Return of the Maharaja," Nalayani and the Maharaja face a lethal enemy while trapped in the Village of the Dead, and the expedition to rescue Nalayani's village faces an even deadlier curse that sabotages their attempts to search for their leader (whose mysterious past is finally revealed)!

SAUCER COUNTRY VOL. 2: THE RETICULAN CANDIDATE TP
Written by PAUL CORNELL • Art by RYAN KELLY and MIRKO COLAK
Cover by RYAN KELLY
On sale AUGUST 7 • 176 pg, FC, $16.99 US • MATURE READERS
In this final SAUCER COUNTRY collection of issues #7-14, Arcadia and her team hit the campaign trail…but can she gain access to the government's alien secrets? And whose side are the flying saucers really on?

HELLBLAZER VOL. 6: BLOODLINES NEW EDITION TP
Written by GARTH ENNIS and JOHN SMITH • Art by STEVE DILLON,
WILL SIMPSON and others • Cover by RAFAEL ALBUQUERQUE
On sale AUGUST 28 • 400 pg, FC, $19.99 US • MATURE READERS
From PREACHER writer Garth Ennis, it's a new edition of a classic HELLBLAZER title collecting issues #47-61. Includes a special Christmas, plus Constantine's battle against the demon Calibraxis and more!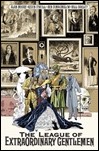 THE LEAGUE OF EXTRAORDINARY GENTLEMEN OMNIBUS TP
Written by ALAN MOORE
Art and cover by KEVIN O'NEILL
On sale AUGUST 28 • 416 pg, FC, $29.99 US
The original two LEAGUE OF EXTRAORDINARY GENTLEMEN epics are back in a single trade paperback. In this incredible tale, Allan Quatermain, Mina Murray, Captain Nemo, Dr. Henry Jekyll and Edward Hyde, and the Invisible Man unite to defeat a deadly menace to London and all Britons! Then, one month later, the skies over England are filled with flaming rockets as Mars launches the first salvo of an invasion. Only our stalwart adventurers can save mother England and the Earth itself.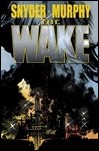 THE WAKE #3
Written by SCOTT SNYDER
Art and cover by SEAN MURPHY
1:25 Variant cover by DUSTIN NGUYEN
On sale JULY 31 • 32 pg, FC, 3 of 10, $2.99 US • MATURE READERS
A new species has been discovered at the bottom of the ocean, and as a result people are dying. Is it the missing link? Or a link to something even bigger? Marine biologist Lee Archer and her crew have to find out before things get much, much worse…

RIGHT STATE TP
Written by MAT JOHNSON
Art by ANDREA MUTTI
Cover by NESSIM HIGSON
On sale AUGUST 14 • 144 pg, B&W, 6.75"x 9", $16.99 US • MATURE READERS
Mat Johnson, acclaimed writer of INCOGNEGRO, delivers a race-against time political thriller about a militia group that's plotting to assassinate the second African- American President of the U.S. In the week leading up to a major campaign speech, the Secret Service discovers that an extremist militia group is plotting to assassinate America's second African American President. The best chance to avert this crisis is to infiltrate the group using an ex-Special Forces war hero turned conservative media pundit named Ted Akers. While Akers's politics make him a hero to the right-wing fringe and no friend to the current Administration, he takes the assignment and what follows is an adrenaline fueled race against time to stop a President from dying and a country from being ripped apart.

100 BULLETS: BROTHER LONO #2
Written by BRIAN AZZARELLO
Art by EDUARDO RISSO
Cover by DAVE JOHNSON
On sale JULY 17 • 32 pg, FC, 2 of 8, $2.99 US • MATURE READERS
South-of-the-Border intrigue heats up as a mysterious nun shows up at the monastery where Lono has been hiding out. It doesn't help that she's a lot sexier than most nuns have a habit of being…
– The Comic Book Critic