Tom Brevoort started a Twitter initiative called "While They Live Wednesday" using the hashtag #whiletheylive on Twitter where fans can celebrate industry professionals while they are still alive to appreciate the kind words. We at Comic Book Critic think this is a great idea and have made it a weekly feature.
The celebrated industry pro for Wednesday March 16th, 2011 is Dennis 'Denny' O'Neil.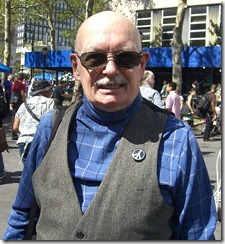 Denny O'Neil wrote some great comics in his career, but two that stand out for me were his runs on Green Lantern with Neal Adams and The Question with Denys Cowan. I tried to seek out as many O'Neil Green Lantern/Green Arrow issues as I could afford at the time for the fantastic writing and the quality artwork. The Question was a book that I always put near the bottom of my comic book pile. Only for the simple fact that not many books that I got that week could even compare to the stories in that book and I was saving the best for last. He's done a LOT of work for several different companies, and tackled a wide variety of superheroes and topics, but I will always think of those two series when I hear the name Denny O'Neil.
Leave a comment here or tweet them with #whiletheylive.