Tom Brevoort started a Twitter initiative called "While They Live Wednesday," using the hashtag #whiletheylive, fans can celebrate industry professionals while they are still alive to appreciate the kind words. We at Comic Book Critic think this is a great idea and have made it a weekly feature.
The celebrated industry pro for Wednesday March 30th, 2011 is Jim Shooter.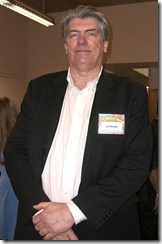 Jim Shooter started his writing career working on the Legion of Super-Heroes in Adventure Comics at the age of 14. He's widely known for his tenure as Marvel Comics' Editor-in-Chief for almost 10 years during one of their most creative and profitable periods. It was a highly controversial time for Jim, Marvel Comics, and the 'Bullpen' of artists and creators. While I've read a lot about those times over the years, I will say one thing. Some of the best Marvel Comics stories I read while growing up had the name of Jim Shooter somewhere on it.
Leave a comment here or tweet them with #whiletheylive.