Tom Brevoort started a Twitter initiative called "While They Live Wednesday," using the hashtag #whiletheylive, fans can celebrate industry professionals while they are still alive to appreciate the kind words. We at Comic Book Critic think this is a great idea and have made it a weekly feature.
The celebrated industry pro for Wednesday April 6th, 2011 is Sergio Aragones.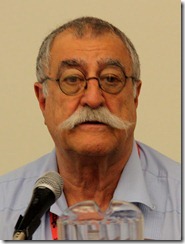 As a kid, I always loved the drawings in the margins of Mad Magazine by Sergio Aragones. He was featured as the World's Fastest Cartoonist on the early 1980's NBC show Real People. His long term collaboration with Mark Evanier on Groo The Wanderer resulted is some of the funniest stories I've ever read. It's survived many years and publishing companies due to the strength of the quality output by Sergio Aragones.