Tom Brevoort started a Twitter initiative called "While They Live Wednesday," using the hashtag #whiletheylive, fans can celebrate industry professionals while they are still alive to appreciate the kind words. We at Comic Book Critic think this is a great idea and have made it a weekly feature.
The celebrated industry pro for Wednesday April 13th, 2011 is Jerry Robinson.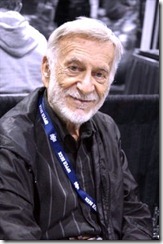 My knowledge of Jerry Robinson is very limited. I knew he had a hand in creating The Joker and naming Robin and designing his costume. Other than drawing Batman after Bob Kane moved on to do the Batman daily strips, I wasn't familiar with much of his work. Here is part of his bio from his website:
While a journalism student at Columbia University, Robinson began his cartooning career at age seventeen on the original Batman comic book in 1939 for which he created the Joker, comics' first super villain. He named Batman's protégé, Robin, and designed his costume. He now serves as Creative Consultant to DC Comics.

Robinson has led creator rights cases including copyright, trademark, censorship, First Amendment and human rights. Examples include: representing Joe Shuster and Jerry Siegel, creators of Superman, in their struggle to obtain financial security and restore their creator credits; obtaining the release of jailed and tortured cartoonists in Uruguay and the Soviet Union; writing briefs on behalf of the AAEC and NCS, one in trademark litigation brought against editorial cartoonists and the other presented before a U.S. Senate committee on postal laws; and serving on the joint arts committee that negotiated creator protection in the copyright renewal law.