The Twitter initiative called "While They Live Wednesday" was started by Tom Brevoort and using the hashtag #whiletheylive, fans can celebrate iconic industry professionals while they are still alive to appreciate the kind words. We at Comic Book Critic think this is a great idea and have made it a weekly feature.
The celebrated industry pro for Wednesday April 20th, 2011 is Jean Giraud aka Moebius.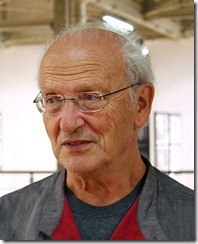 My introduction to Moebius was The Incal and The Airtight Garage. His artwork seemed so intricate and detailed compared to the Marvel and DC artists I was following at the time. It was his art that pulled me in but it was the combination of his writing and style that kept me coming back. He illustrated Silver Surfer: Parable, written by Stan Lee, in 1988 but remained largely unknown in the United States. If you've never read a Moebius story, do yourself a favor and pick up The Airtight Garage or one of his Blueberry volumes. You'll be glad you did.