Preview of Regular Show: Hydration OGN (KaBOOM!)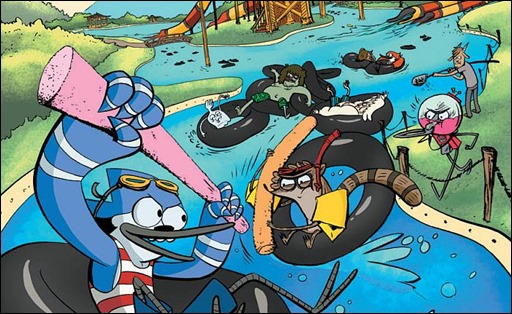 Here's a preview of the very first Regular Show original graphic novel – Regular Show: Hydration by Rachel Connor & Tessa Stone, on sale September 10th, 2014 from BOOM! Studios.
Regular Show: Hydration OGN TP
Imprint: KaBOOM!
Writer: Rachel Connor
Artist: Tessa Stone
WHY WE LOVE IT: Mordecai and Rigby star in their very first original graphic novel for REGULAR SHOW—it's a long-form story that will be like watching one of their TV episodes. And we're pretty excited about the team on this: Cartoon Network veteran Rachel Connor (Ed, Edd n Eddy) and Bravest Warriors artist Tessa Stone!