Angelic #1 Preview (Image)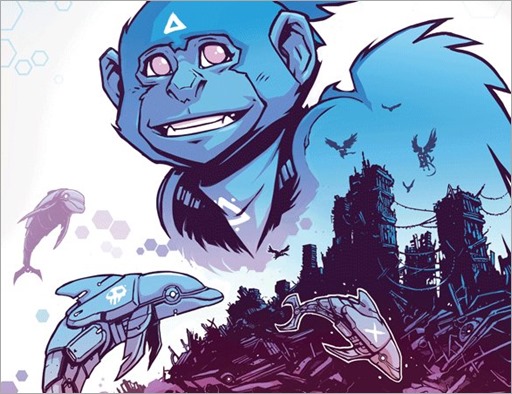 Here's a short preview of Angelic #1, an ongoing series by writer Simon Spurrier and artist Caspar Wijngaard, on sale September 20th, 2017 from Image Comics.
ANGELIC #1
Story: Simon Spurrier
Art / Cover: Caspar Wijngaard
NEW ONGOING SERIES PREMIERE!
WINGED MONKEYS! TECHNO-DOLPHINS! QUANTUM ALLEYCATS!
Humanity's long gone. Its memory lingers only as misunderstood rituals among mankind's leftovers: the genetically modified animals they used and abused for eons. But for one young flying monkey, QORA, the routines are unbearable. All she wants is to explore. Instead she's expected to settle down, to become a mother…to lose her wings.
Eisner nominee SIMON SPURRIER (The Spire, CRY HAVOC, X-Men Legacy) and rising-star CASPAR WIJNGAARD (LIMBO, Dark Souls, Assassin's Creed) present your new bittersweet adventure obsession: teenage rebellion and animal antics amidst the ruins of civilization!—Think WALL-E by way of Watership Down. Fly, my pretties!
Praise for ANGELIC:
"Angelic is beautifully illustrated, pure imagination from one of the best writers in comics. Plus monkeys. I love it." —Brian K. Vaughan
"Angelic is giddy, fierce and fun. It's a coming of (monk-)age story in a wild post-apocalypse with rocket-propelled dandy dolphins, bickering baddies and a rebellious girlmonk beginning to question the coda of flying monkey society. My eight year old daughter and I love it." —Lauren Beukes
"If this doesn't win next year's Eisner for Best Adorable Cybernetic Flying Monkeys In Post Apocalyptic Fable Ongoing I will be outraged." —Kieron Gillen
"Angelic from Image Comics is fantastic. It's the futuristic teenage flying monkeys comic that I can read with my kid." —Gerry Duggan
"It's Watership Down by way of A Canticle for Leibowitz, or a post-apocalyptic We3—gorgeous looking too ." —PJ Holden
"A lot of colourful fun with clever, playful language." —Duncan Fegredo
"If you love the post-apocalyptic creole language of Mad Max, A Canticle For Liebowitz, or A Clockwork Orange then you'll adore Angelic." —Alex Paknadel
"Worth it just for the gorgeous colourful art. However it's also got flying Dolphins and a compelling narrative about cute future animals as well, so I put this on the must read twice pile" —Frazer Irving
"Angelic is an enchanting, twisted, and yet gentle fairytale—the kind that reminds me of the kid in me. Recommended." —Ales Kot
U.S. Cover Price: $3.99
Published: September 20, 2017
Diamond ID: JUL170699