Marvel Announces Limited Edition AVENGERS VS. X-MEN HARDCOVER
The Hottest Comic Of the Year Is Now The Most Anticipated Collection of 2012
Press release
The best-selling comic event of the year, pitting the two most popular super hero teams against one another, hits store shelves in a limited edition, oversized collection with the Avengers Vs. X-Men Hardcover! In a mammoth collection including not only the massively popular 13-issue limited series but the critically acclaimed AVX VS and the groundbreaking Avengers VS. X-Men: Infinite comics! Experience the pop culture event like never before as your favorite heroes like Captain America, Iron Man, Thor, Wolverine, Cyclops, Magneto and more go head to head with the entire Marvel Universe at stake!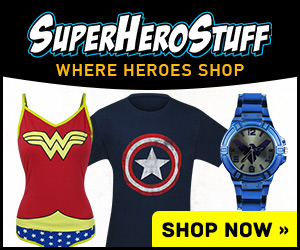 The Avengers VS X-Men Hardcover features the top talent of the industry including top-selling authors: Brian Michael Bendis (Avengers, Ultimate Comics Spider-Man); Jason Aaron (Wolverine & The X-Men, Wolverine); Jonathan Hickman (Fantastic Four, Ultimate Comics Ultimates); Ed Brubaker (Captain America, Winter Soldier); Matt Fraction (Invincible Iron Man, The Mighty Thor) and even more! This unprecedented assembly of acclaimed writers is joined by a cavalcade of the industry's superstar artists including John Romita Jr (Avengers); Olivier Coipel (The Mighty Thor); Adam Kubert (X-Men: Schism) and others.
With a limited print run, the Avengers VS. X-Men Hardcover includes a cavalcade of bonus features that bring the Avengers Vs. X-Men experience even further including
· Exclusive (to the collection) behind the scenes extras utilizing special augmented reality technology with the Marvel AR app powered by Aurasma
· Avengers VS. X-Men Infinite comics in print for the very first time!
· A code for a free digital copy available exclusively through the Marvel Comics app & Marvel Digital Comics Shop!
The Avengers and X-Men have learned that the all-powerful embodiment of both death and rebirth known as the Phoenix Force is on a crash course for Earth…and it needs a new host to unleash its immeasurable power. But what is the shocking decision tied to the Phoenix's return that will pit the Avengers against the X-Men? And when good friends become bitter enemies, what does this mean for the future of the Marvel Universe?
You've heard It's Coming—and this November witness every punch thrown, every shield slung and every blast blown out in the Avengers VS. X-Men Hardcover!
All your favorite super heroes enter the fight—and only one team will emerge victorious!
For more on Avengers VS X-Men, please visit http://avx.marvel.com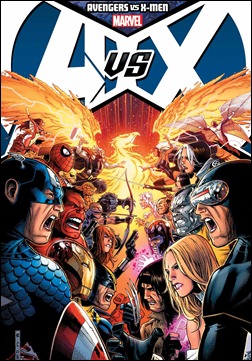 AVENGERS VS. X-MEN HARDCOVER (JUL120630)
AVENGERS VS. X-MEN HARDCOVER DM VARIANT (JUL120631)
Written by BRIAN MICHAEL BENDIS, JASON AARON, ED BRUBAKER, JONATHAN HICKMAN, MATT FRACTION & MORE
Art by FRANK CHO, JOHN ROMITA JR, OLIVIER COIPEL, ADAM KUBERT & MORE
Cover by JIM CHEUNG
DM Variant Cover by NICK BRADSHAW
$75.00 – Rated T+
ISBN: 978-0-7851-6317-6
– The Comic Book Critic