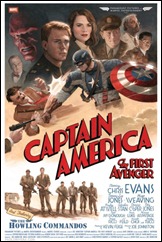 The new theatrical trailer for Joe Johnston's Captain America: The First Avenger was released today and it features plenty of action. Peggy Carter, who is Captain America's love interest played by Hayley Atwell, is featured in the trailer.
We also get a better look at the villains: Nazis' deep science division – Hydra and its leader The Red Skull played by Hugo Weaving. Running at two and a half minutes, the trailer gives us a good overview of the plot, story, and action.
To top it all off, we get to see the Howling Commandos in action in World War II! With an estimated budget of $140 million, this film looks to have great potential.
Captain America: The First Avenger opens nationwide on July 22nd in both 3-D and 2-D.
Captain America: The First Avenger Theatrical Trailer