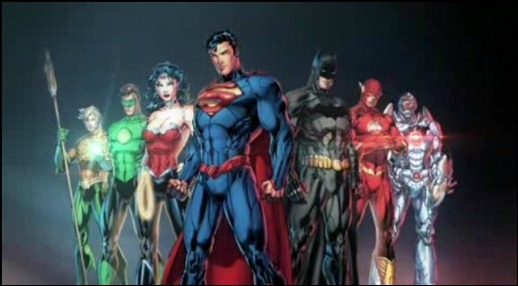 DC Comics debuted their 30-second commercial that will be used in movie theaters and on television to promote their DC Universe 'The New 52' relaunch in September. As part of the promotion in theaters, DC will offer a "75% special event co-op reimbursement" for retailers who want to advertise their store on an "end card" that includes their logo, address, and a message. The five-week program will run from August 31st to September 30th.
Here is the 30-second trailer:
DC has also released a longer 'extended' trailer that runs two minutes. They've disabled embedding on the video, but it can be seen at The LA Times Hero Complex site.
While DC has probably spent months devising and planning the NEW 52 relaunch, it seems like they only spent hours on the advertising idea. The ads are nothing more than a glorified motion comic with a really bad soundtrack; The music is awful.
On top of that, the ads don't really say much except that all this is "ALL-NEW." Unless a person has already heard about what's going on with the relaunch, they would have no idea what this is all about, well, except that it's "ALL-NEW." Oh yeah, it's a bunch of ALL-NEW, same old superheroes they've seen in the past – well, maybe not that robot thing on the right… who's he again? This is the way DC chooses to run a big budget ad campaign?
A Golden Opportunity Squandered
Back in May, when DC first announced their big plans, I wrote about how DC could use that bold move to increase readership in the comics industry. Well, unfortunately, they didn't use the golden opportunity that they created, to gain as many readers as they could. The ads don't create ANY incentive for a non-comic book reader to go out and purchase any one of those books, much less all of them. What do they care if they're all new #1's? If they're not reading comics now, why should they read them after they see these ads?
The push is clearly aimed at current comics readers; but, even then, there's no clear incentive to buy them just because they are #1's. If you're potentially going to spend millions of dollars to get the word out about your comics, is this really the best way to do it?
They could have employed a well known writer, TV star, or movie star to deliver sound bytes about how DC Comics (and comics in general) tell stories that transcend both books and movies. how it's an important medium to tell important stories, how those stories are small enough to fit in a comic, yet big enough to be made into films. This is a rare time when the mainstream media might have their eyes focused, if only for a brief period, on the comics industry – and this is how DC chose to get their message across?
Granted, the commercial spot is only 30 seconds, but there is so much you can convey in that time besides just showing a slow-motion pseudo-motion comic. There's no excitement, no "WOW" factor, and no incentive to their TV and theater marketing strategy – if you can call it that. It's just an in-house ad campaign that's set to motion and music played over the top.
I'm disappointed by what I saw today. I was eagerly anticipating an ad campaign from DC as bold as their decision to restart their Universe. But just like the subsequent news about it being a "soft reboot," it's fitting that they do a "soft ad campaign."
– The Comic Book Critic