Callie Cosplay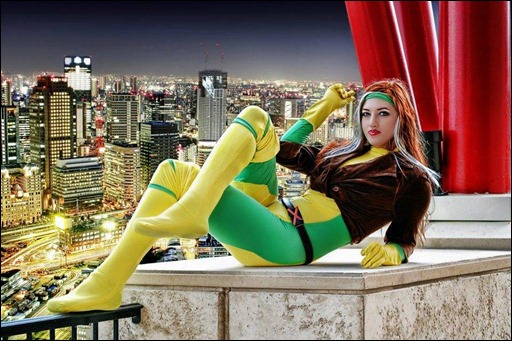 UPDATE 04/07/13:
Callie recently had emergency surgery and is without medical insurance coverage. Her supporters are helping her raise funds to cover the cost of her high medical bills. Below are links about what she is going through and where you can help. We wish her a speedy recovery!
http://www.gofundme.com/savingcallie
http://geekxgirls.com/article.php?ID=639
http://www.geeksaresexy.net/2013/04/05/gravely-ill-cosplayer-needs-help-callie-cosplay/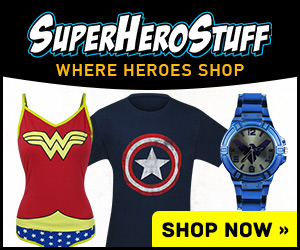 —
There are many talented models and performers who bring their love & enthusiasm to dressing up as their favorite characters. Comic Book Critic will regularly showcase a performer who embodies the spirit of cosplaying.
Whether it's creating the costume from scratch, altering the appearance of an existing one, or just getting into character, these performers spend a lot of time and effort on their craft. As much as we all enjoy seeing our favorite fictional characters represented in real life, let's not forget the behind-the-scenes work that goes into that portrayal.
One thing is for certain though, their love of cosplaying shines through in their work.
The Comic Book Critic Featured Cosplayer for February 26th, 2013 is:
Callie Cosplay from Lakeland, FL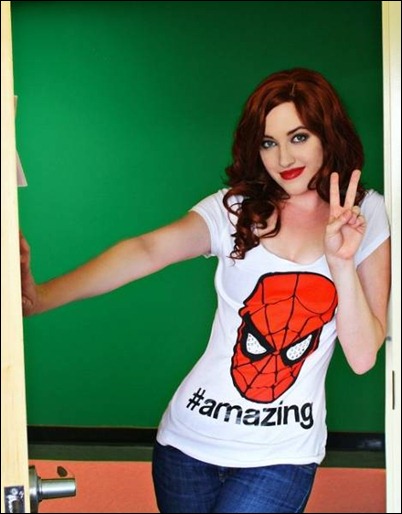 Callie has been modeling for 4 years and just started cosplaying 9 months ago. We caught up with her and asked about her experiences in cosplaying.
What made you decide cosplaying was something you wanted to do?
I've been dressing up in costume ever since I was a little girl at the age of 4. It's something I've always loved to do. Every opportunity I've had in my life, I have dressed up. Dance recitals, school projects, movie, book, and game releases, etc…
Cosplay, specifically as geeky characters, happened at a magical time. A black widow suit had been crafted and put together for me (for The Avengers premiere). The moment when I looked in the mirror after I was fully clad in the suit was the moment I fell in love with Cosplay. From that moment on, I knew it was the thing for me.
So, that was your first costume?
Yes, my first cosplay was Black Widow for The Avengers premiere.
Were you a model before you began cosplaying?
Yes. I have modeled for 4 years now.
Do you make your own costumes?
Yes, I do! My first one I did not make. It was put together for me and the initial costume that got me obsessed with cosplay. I do sew, and when it's something my sewing skills are not capable of…I put together the outfit. This includes many trips around town for costume pieces and perusing the web for additional things (wigs, belts, etc.). Though I will learn the art of leather making and sculpting armor soon!
Which is your favorite character?
Black Cat. Or Ms. Marvel… I think it's the mask (Which was made and hand delivered to me by my friend Carlos at Rage Custom Creations! [He is the bomb])
What do you like to do in your spare time, other than cosplay?
Oh wow… that's a long list. I love sleeping when I have the time for it. No, really…I am a musician, and I love love love to write and draw. I'm an artsy fartsy kinda gal.
Do you read comics regularly, if so, which are your favorites?
When I have the time – of course! I love the Captain Marvel boot! I also love Wonder Woman comics…hehe. Also The Amazing Spider-Man (though I am sad to see that line end).
Are there any particular events or conventions that you prefer to appear?
I have yet to debut at an event or con yet! MegaCon…Orlando…*wink, wink*
What are some of your most memorable moments while cosplaying?
The joy on a child's face when they see me in the street during a shoot. Goal of Cosplay MADE. Eternally.
Are there any downsides to appearing at cons?
I guess I'll find out in a month! Though I would not negatively think about anything along those lines, or expect it.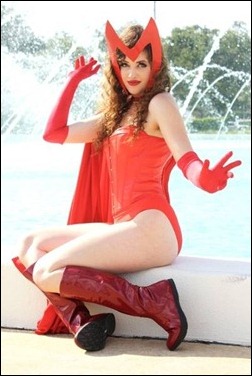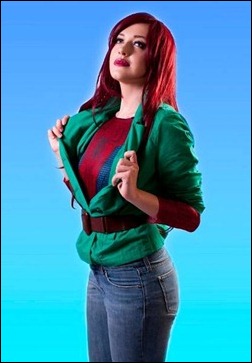 What are some of your least memorable moments while cosplaying?
Oh…haha. This is a wonderful question. Fashion blips. Nip slips. As much as we all know how much cleavage comic book characters sport these days, not having a nip slip during a shoot is IMPOSSIBLE. Unless you tape 'em down or pasty them to death.
Who are some of your favorite cosplayers?
YaYa Han. Hands down.
How long have you been cosplaying?
9 months
How much time do you invest in cosplaying?
Hours a day. At least 5.
What advice do you have for someone just starting out in cosplaying?
KNOW THE CHARACTER. LOVE THEM. BECOME THEM. And enjoy every moment of it. When you're happy enough, it's contagious. And there's nothing better than making a whole crowd smile when you're just walking down the street in costume.
If you could change anything since you started, what would it be?
I'd buff up a little. Physically and on my sewing skills. Hah!
What does the future hold for you?
Doing everything in my power to make society better as a whole. Starting with just that one smile on a child's face. Because folks, it always begins with just one.
I'd like to take a moment to thank my family, friends, and fans for all of their love and support! Also, Carlos and his crew, and to anyone reading this. Thank you. You guys are all awesome, and I could not do any of this without ya'll.
<3
Leah Burroughs
AKA
Callie Cosplay
Booking & Contact
If you would like to book Callie Cosplay for your convention or want to contact her for modeling opportunities, you can do so through her email here.
Callie Cosplay Links
You can see more of her work at these links:
Facebook: http://www.facebook.com/CallieCosplay
Website: http://www.calliecosplay.com/
Share your thoughts in the comments section below!
Photo Credits:
Ashley Brewer
David Thorpe
Bobby Monnerat
John Corley
– The Comic Book Critic