Who Shot The Watcher? Your Advanced Look at ORIGINAL SIN #1!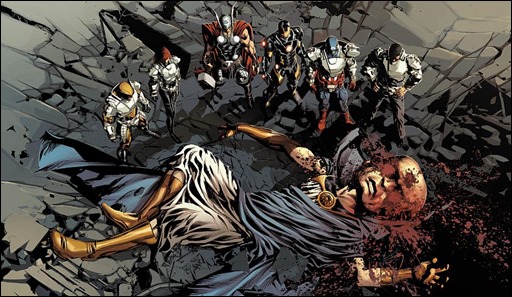 The teasing is over. For the first time you can take a look at an advanced preview of this summer's blockbuster event from Marvel Comics – Original Sin. The series and its tie-ins will receive an unprecedented mass media blitz from Marvel.
Here's a first look at 4 pages of art from Original Sin #1 by writer Jason Aaron and artist Mike Deodato, courtesy of Marvel Comics – on sale May 7th, 2014.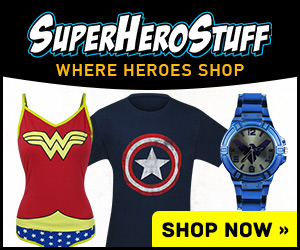 Press Release
This May, the secrets come out. Today, Marvel is proud to present a fuller look at beautifully rendered interior pages from ORIGINAL SIN #1 – the 8-part blockbuster event from New York Times Bestselling writer Jason Aaron and critically acclaimed artist Mike Deodato!
On the moon, the dead body of Uatu, The Watcher is discovered. His home destroyed. Looted of its valuable alien technology. His death sends shockwaves through the superhero community. The Watcher has borne witness to every event, every skeleton and every secret history of the Marvel Universe. Secrets that are now in the possession of the killer!
The manhunt is on as the Avengers, the X-Men, Spider-Man, the Fantastic Four and everyone in between desperately search for the Watcher's killer – but with the killer in possession of all the skeletons in their closets, are they ready for their sins to be revealed?
As they unearth the motive behind The Watcher's murder, they'll uncover a shocking truth that will shake the Marvel Universe to its core. What did The Watcher see that made him a target? And it's only a matter of time before more bodies start popping up!
"This is a murder mystery on a Marvel Universe scale, so the suspects and motivations span all of space and time, and even the nature of existence itself!" says Executive Editor Tom Brevoort. "And in fact, there are two possibilities: first, that the Watcher was killed because of some grudge or slight, or to gain possession of his secrets. Or, more menacingly, the Watcher was killed in order to prevent him from seeing what comes next—to prevent him from interceding as he has so many times before! Neither is a particularly comforting thought to the heroes of the Marvel Universe! Nor is the notion that the being who could murder a nigh-omnipotent, eternal figure such as the Watcher must rank among the most dangerous and powerful individuals in existence!"
You thought you knew the whole story? You we're wrong! The next stage of the Marvel Universe begins in May's blockbuster ORIGINAL SIN #1!
Everybody has one. This is Marvel's ORIGINAL SIN!
Every issue of ORIGINAL SIN includes a code for a free digital copy of that same comic on the Marvel Comics app for iOS and Android devices. Additionally, each issue of ORIGINAL SIN features special augmented reality content available exclusive through the Marvel AR app – including cover recaps, behind the scenes features and more that add value to your reading experience at no additional cost.
ORIGINAL SIN #1 (MAR140615)
Written by JASON AARON
Art by MIKE DEODATO
Cover by JULIAN TOTINO TEDESCO
Variant Cover by GABRIELLE DELL'OTTO (MAR140616)
Variant Cover by ED MCGUINNESS (MAR140618)
Young Variant by SKOTTIE YOUNG (MAR140619)
Teaser Variant by STEVE MCNIVEN (MAR140621)
Blank Cover Also Available!
FOC – 04/07/14, On-Sale 05/07/14
– The Comic Book Critic