Next Testament #2 by Clive Barker – Preview!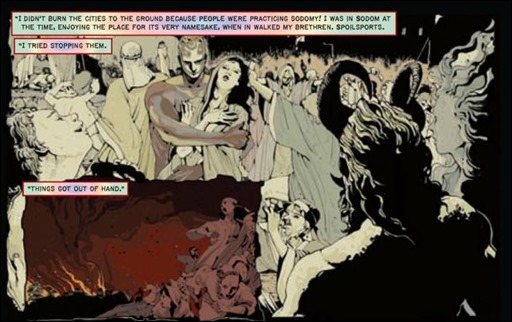 Here is a preview of Next Testament #2, written by Clive Barker & Mark Miller and drawn by Haemi Jang, from BOOM! Studios on sale July 3rd, 2013.
Written by Clive Barker, Mark Miller
Drawn by Haemi Jang
SC, 32pgs, FC, SRP: $3.99
Diamond Code: APR13 0940
Julian Edmond has returned to his luxurious life with Wick, the indescribable individual who claims to be God on Earth. Julian believes… and in order to make sure Wick's will is done, is ready to make sacrifices… Meanwhile, Julian's son, Tristan, learns of a secret that will set him and his father on a collision course…
Master of horror Clive Barker, co-writer Mark Miller, and international sensation Haemi Jang unveil the second chapter of the year long epic event! Ask your retailer about the rare Clive Barker "Scripture" incentive variant!