BUBBLEGUN #1 Preview!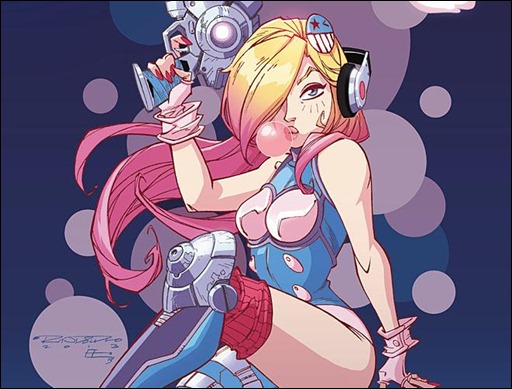 Here is a preview of 4 story pages and several covers from BUBBLEGUN #1 by Mark Roslan, Mike Bowden, & David Curiel – on sale June 12th, 2013 from Aspen Comics.

Mark Roslan ­ Story / Mike Bowden ­ Art / David Curiel – Colors
The future is here with Aspen¹s latest '10 for 10' series debut, BUBBLEGUN!
They like the tech, but live for the high stakes! Sisters Molli and Devyn, along with teammates Roman and Kyo‹and a stockpile of cutting edge, cyber-punk technology, form a confident team of mercenary thieves able to take on the most formidable jobs around. Yet, when one cyber heist turns out to be more than they bargained for, as a mysterious package and its contents threaten to unravel the group to its core, the menacing worlds of corrupt industry and deadly espionage is unleashed upon them!
Join creator and writer Mark Roslan (Broken Pieces), penciler Mike Bowden (World of Warcraft, Ame-Comi Girls), and colorist David Curiel (Idolized, Avenging Spider-Man) on what¹s sure to become Aspen¹s next hit sci-fi, action adventure series! Strap yourselves in because BUBBLEGUN is gonna take you on a wild ride!
BUBBLEGUN #1 is in stores June 12th, 2013!
– The Comic Book Critic