The Eltingville Club HC Preview (Dark Horse)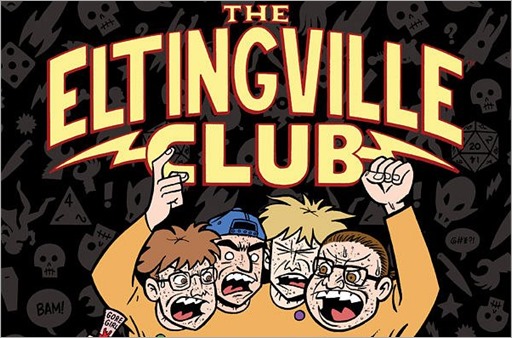 Here's a 6 page preview of The Eltingville Club HC by the inimitable Evan Dorkin, on sale February 10th, 2016 from Dark Horse.
THE ELTINGVILLE CLUB HC
Writer: Evan Dorkin
Artist: Evan Dorkin
Cover Artist: Evan Dorkin
Take-no-prisoners trivia-offs. Pill-fueled Twilight Zonemarathons. Fan interventions. Here is the ultimate word on the fugly side of fandom, collecting every Eltingville story from Dork,House of Fun, and The Eltingville Club #1–#2, three of which won Eisner Awards for Best Short Story. Also features the Northwest Comix Collective alt-comics smackdown and an afterword about the 2002 Adult Swim animated pilot. Definitive, complete, and unashamed, this is fandom at its fan-dumbest, in the mighty Eltingville manner!
"One of the sharpest, harshest, most honest things you'll read all year."—Multiversity Comics
"Dorkin's storytelling is strong on pacing and suspense."—Comic Book Resources
Genre: Humor
Publication Date: February 10, 2016
Format: FC, 144 pages; HC, 8" x 11"
Price: $19.99
Age range: 16
ISBN-10: 1-61655-415-0
ISBN-13: 978-1-61655-415-6