Judge Dredd #1 Preview (IDW)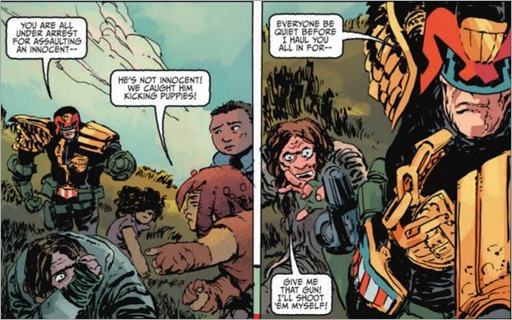 Here's a 5 page preview of Judge Dredd #1, the new ongoing series by writers Ulises Fariñas & Erick Freitas and artist Dan McDaid, on sale December 16th, 2015 from IDW Publishing.
Judge Dredd #1
Ulises Fariñas & Erick Freitas (w) • Dan McDaid (a) • Fariñas (c)
"Mega-City Zero," part 1! Ushering in a brave new era, Judge Dredd awakens to find that Mega-City One has been sent back to the Stone Age, with city blocks overgrown and nary a citizen to be found. Witness as Dredd struggles to unravel the mystery as he copes with being just an ordinary Joe…
FC • 32 pages • $3.99
Bullet points: 
· Part of Archie cover month, celebrating 75 years of Archie!
· Dredd boldly goes where no Judge has gone before!
· New ongoing series by rising stars Ulises Fariñas, Erick Freitas and Dan McDaid!
· Ask your retailer about the wraparound variant cover by Paul Hanley!