Preview of Luna the Vampire #1 by Yasmin Sheikh (IDW)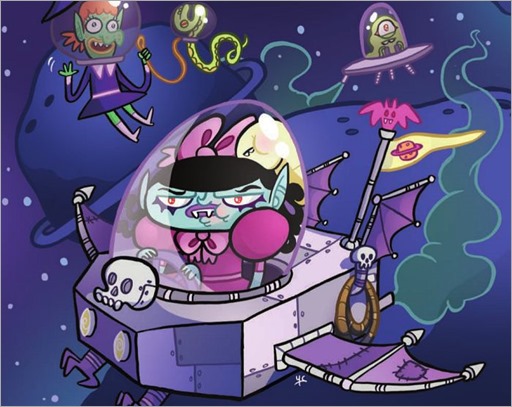 Here's a 5 page preview of Luna the Vampire #1 by creator Yasmin Sheikh, on sale January 13th, 2016 from IDW Publishing.
Luna the Vampire #1
Yasmin Sheikh (w) • Yasmin Sheikh (a & c)
HOLY SPACE BLAST!
Ever wonder how it would be if outer space was populated by monsters? Or what it would be like to have a green ugly witch as your best friend? Then look no further! Welcome to the AMAZING everyday life of Luna the vampire. (Zombie postman and crappy job included.)
FC • 32 pages • $3.99
Bullet points: 
· For those fans of My Little Pony, Adventure Time, and Edward Scissorhands—you're welcome!