Preview of Tales From The Con: Year One (Image)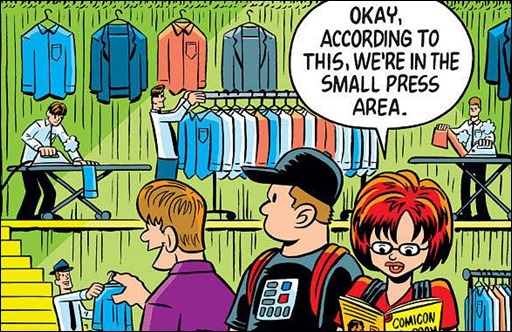 Here's a six page preview of Tales From The Con: Year One by Brad Guigar and Chris Giarrusso, courtesy of Image Comics – on sale May 14th, 2014.
TALES FROM THE CON: YEAR ONE
story: BRAD GUIGAR
art / cover : CHRIS GIARRUSSO
MAY 14 / 32 PAGES / FC / E / $3.50
Collects the first year of TALES FROM THE CON along with bonus material
If you've been to a comic convention, you'll recognize the scenes in TALES FROM THE CON, the irreverent webcomic that has appeared on the Emerald City Comicon website since 2012.
Written by Eisner-nominee BRAD GUIGAR (HOW TO MAKE WEBCOMICS, Evil Inc.) and illustrated by CHRIS GIARRUSSO (G-MAN, Mini Marvels), TALES FROM THE CON is an uproarious take on the world of comic books and conventions. Fanboys, fangirls, cosplayers, retailers, volunteers, and pros repeatedly collide on the convention floor (and beyond) to prove that comic conventions are one part festival, two parts group therapy.
– The Comic Book Critic