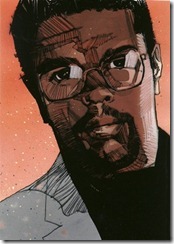 Today, Feb. 22nd 2011, across our twitter feed, came the shocking news of the sudden and unexpected death of Dwayne McDuffie.
I first remember him working on Marvel's Damage Control comic in the early 90's. He then went on to become a co-founder in Milestone Media, a comic book company owned by African-Americans. A number of titles were distributed in a publishing deal with DC Comics starting in 1993. Working in the capacity as editor-in-chief at Milestone Media, he created or co-created a number of characters including Static. Later Static was developed into and animated series called Static Shock and McDuffie wrote eleven episodes.
Dwayne was hired to write for the animated Justice League series and when it became Justice League Unlimited, he also assumed story editor and producer duties. Of the 91 total episodes of the series run, McDuffie wrote, produced, or was the story editor on 69 of them. He also helped revamp Cartoon Network's Ben 10 with Ben 10: Alien Force and Ben 10: Ultimate Alien.
Dwayne passed away the same day that his adaptation of All Star Superman was released on DVD.
He's done so much more than I can list here. The quality of his writing and art speaks for itself. Dwayne will be greatly missed by many people!
As I wrote this, Comic Book Resources has learned that McDuffie died from complications due to a surgical procedure performed Monday evening.
Comic Book Critic