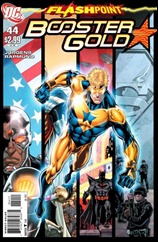 Story: Dan Jurgens
Pencils: Dan Jurgens
Inks: Norm Rapmund
Letters: Carlos M. Mangual
Colors: Hi-Fi Designs
Editor: Rex Ogle
Cover: Dan Jurgens, Norm Rapmund
Publisher: DC Comics
Cover Date: July 2011
Cover Price: $2.99
Booster Gold #44 marks the return of Dan Jurgens to the character he created and it also happens to be a Flashpoint crossover as well. Jurgens gives us an encapsulation of Booster Gold's origin and how he arrived in the story in a few short pages. This makes for a perfect jumping on point for new readers to the title. Even though the story involves a complete shakeup of the DC Universe in Flashpoint, the writing is straightforward enough that we can follow it easily and not have the feeling of being lost in an epic storyline.
In Turbulence, Part One, Booster Gold and Skeets travel to Coast City to find Green Lantern in order to try to get answers to the weird happenings he's experiencing. When they arrive, the city seems to be under attack. Unfortunately for them, Coast City Defense thinks Booster is an Atlantean launching an attack on them and is firing in defense of the city. After being hit several times and managing to escape, Booster deduces that he's in an alternate timeline. He tries to use the Time Platform to travel to a different one, but this turns out be a big mistake. To make matters worse, the city's defense drop a large weapon on Booster Gold – one that he's hoped he'd never have to meet again.
Being that it's a Flashpoint crossover, there's plenty of action to go around and fortunately for us isn't a confusing story, even for newcomers. The story and art are classic Jurgens and it makes for a fun and exciting read. It happened to be one of the more enjoyable stories that I've read this week. Next issue should be even more interesting as Booster Gold comes face to face with an enemy he never wanted to meet again. I'm not giving it away, but let's just say it's another Dan Jurgens creation.
– The Comic Book Critic
Comic Book Critic Rating: 8.0