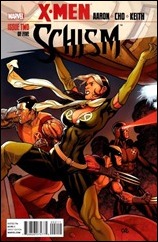 Writer: Jason Aaron
Artist: Frank Cho
Colorist: Jason Keith
Letterer: Jared K. Fletcher
Cover Artist: Frank Cho, Jason Keith
Production: Irene Y. Lee
Editor: Jordan D. White, Daniel Ketchum, Nick Lowe
Publisher: Marvel Comics
Cover Date: September 2011
Cover Price: $3.99
Title: "Schism" Part Two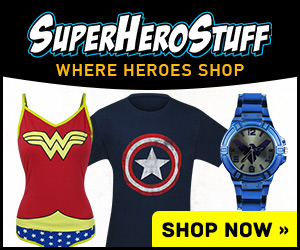 Let's see, last issue we had Kade Kilgore kill his father by shooting him after he falls out of a flying limo, Kade becomes the new Black King of The Hellfire Club, Quentin Quire renews humans' hatred of mutants causing them to declare war on Utopia, and The Sentinels are taken out of mothballs to fight mutants. So you can expect this issue to be pretty hectic.
We learn a few things in Schism Part Two: old Sentinels just don't hold up over time, don't make deals with the Badoon, Kade Kilgore's young friends and NOT to be trifled with, why go looking for someone when they'll eventually just come to you, and if Steve Rodgers is calling… just act like everything's under control!
Frank Cho takes over as artist for X-Men: Schism #2 and does a great job showcasing Jason Aaron's script. As expected in this series, there's a lot of story packed into each issue – which is very different from what we got in X-Men: Prelude to Schism. Although the art was great, I think Cho needed to throw a few more sandwiches at Scott Summers; he looked rather thin.
There were humorous moments in the story as well. When two women take down what I presume is an Iranian Sentinel, not only is their leader humiliated that a woman did that, but he learns one of them is also Jewish! Also, is it bad that I laughed at one of the more violent parts of the book involving a young girl and a Badoon? I hope not.
This series is progressing much better than I had earlier anticipated. Having read X-Men: Prelude to Schism, I was hoping that it didn't drag on like I thought that series did. I was surprised by how the first issue grabbed me and this one continues to do the same. Luckily the price point came back down to $3.99 on this one as I thought $4.99 was a bit much for the first issue.
If you've been on the fence about grabbing this series, I suggest you do so. Judging the the last page of this issue, It's going to be quite a ride from here on out!
– The Comic Book Critic
Comic Book Critic Rating: 7.5