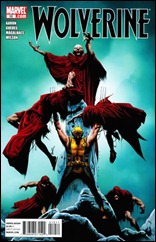 Writer: Jason Aaron
Pencils: Renato Guedes
Inks: Jose Wilson Magalhaes
Colors: Matthew Wilson
Letterer: Cory Petit
Designer: Jared K. Fletcher
Editor: Jody Leheup, Jeanine Schaefer, Nick Lowe
Cover: Jae Lee, June Chung
Publisher: Marvel Comics
Cover Date: August 2011
Cover Price: $3.99
Having fought Mystique in Wolverine #9, Wolverine learns the location of the Red Right Hand's headquarters and goes after them in 'Wolverine's Revenge! Part 1.' Wolverine arrives at the secret location in Mexico and is greeted by Cannonfoot, and they fight throughout the issue.
During the fight, we learn why the Red Right Hand exists. 80 years ago, the son of a coal mine owner, watched his father die at the hands of a man who was later known as Wolverine. This boy never rested until revenge was exacted. Over the years he's tried to kill the many personas of Logan, but to no avail. Eventually he learned of others who had lost loved ones because of Logan and enlisted their aid in killing the man who killed his father. This led to the formation of the Red Right Hand.
This issue sets up a storyline in which we'll probably learn many secrets about the Red Right Hand. Luckily for us, Wolverine has lived long enough to have sufficient room for even more backstory to surface. He's done enough in his past to give writers material for the next several decades. Maybe we can get a spinoff book called Wolverine: Backstory in the works? Huh, whaddaya ya say, Marvel?
Jason Aaron has done a wonderful job on the Wolverine series – since the start, his storytelling and pacing is just right. Renato Guedes and Jose Wilson Magalhaes return to the series, after a stint by Daniel Acuna, and don't seem to skip a beat in the artwork. This is one creative team that's done a consistently good job with Wolverine, and I look forward to reading the next issue month after month.
– The Comic Book Critic
Comic Book Critic Rating: 7.5