Strange Fruit HC Preview (BOOM!)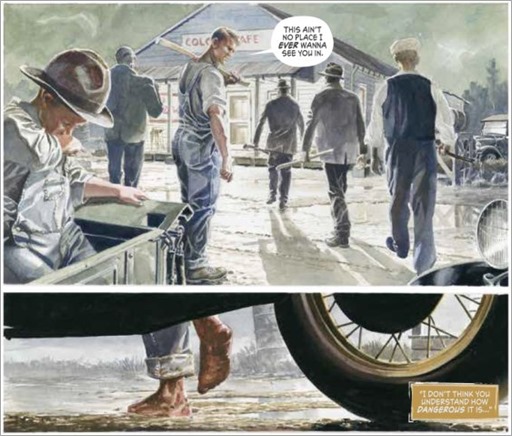 Here's a lengthy preview of Strange Fruit HC, collecting the complete limited series by writer Mark Waid and artist J. G. Jones, on sale May 3rd, 2017 from BOOM! Studios.
Strange Fruit HC
Writer: Mark Waid
Artist: J. G. Jones
Cover Artist: J. G. Jones
J.G. Jones (52, Wanted) and Mark Waid (Irredeemable, Superman: Birthright, Kingdom Come) weave a powerful, literary, fully-painted piece of historical fiction that examines the heroic myth while exploring themes of racism, cultural legacy, and human nature.
During the Great Flood of 1927 in Chatterlee, Mississippi, the River is rising as fast as the racial and social tensions in town. But when an otherworldly being falls from the sky and challenges everything these divided people know, it changes things . . . forever.
Includes a foreword by renowned film critic Elvis Mitchell.
Collects the complete limited series and never-before-seen process art by J.G. Jones.
"…a must read for anyone who is a fan of the medium." – Comic Book Resources
Publisher: BOOM! Studios
Price: $24.99